To all those kids who would love a playset that goes beyond roads and gas stations, I present these fantasy-themed playmaps!
Children's illustration has always been a big part of my life, from my own childhood book collection through to my training as a professional illustrator. This whole genre of art has taught me so much about not just how to tell a visual story, but to inspire the viewer to build their own stories!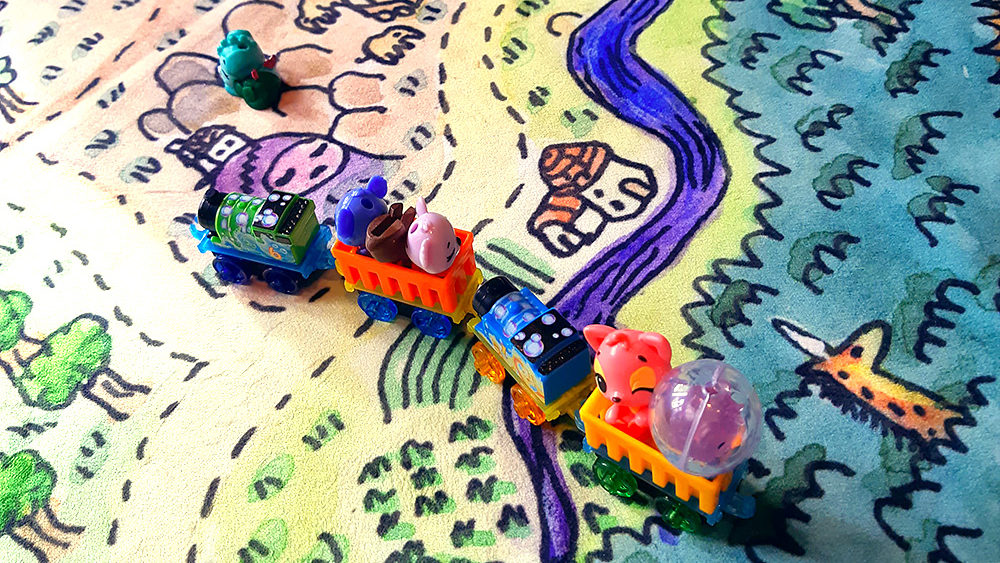 As I got into making art specifically for kids, I definitely took inspiration from work like Martin Handford's Where's Waldo books, Jill Barklem's Brambly Hedge paintings, and Richard Scarry's Busy Busy Town books.
These are examples of the type of art that is full of things, full of scenes, that isn't trying to teach something specific to a passive onlooker, but instead invites the viewer to explore it at their own pace – and that's exactly what I'm doing with these playmats.
I love telling stories, and I love helping other people tell stories!
For the youngest imaginations, and anyone who loves following a road to adventure, I've created The Realm of the River Dragon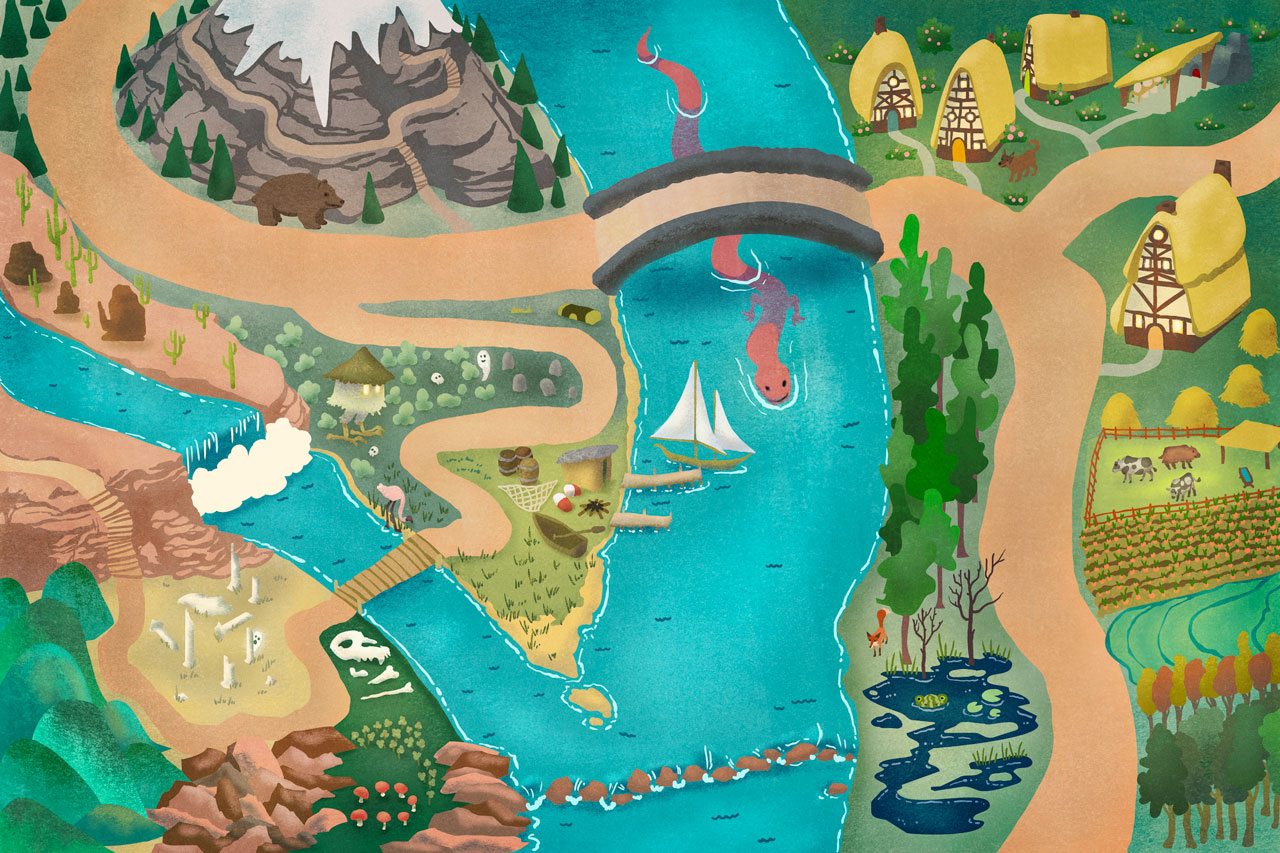 For storytellers who can't get enough of boats, ocean life, or mysteries, I've painted Seven Odd Islands
For explorers who love to bring the whole world to life, we have collaborated to create Cozy Land
With this third map, I had the incredible luck to get to collaborate with one of my biggest map inspirations – Evlyn Moreau.
Evlyn's doodle maps are drawn for collaboration, inviting the viewer to connect things and find stories, and I'm a huge fan!
She generously sent me one that I then painted up with watercolours, and we have published it alongside my other playmaps.
I certainly hope that other adults also love these maps, but they were drawn for kids.
I designed these to be toys that I would have loved as a child, and I hope they are toys that will kickstart a thousand imagined adventures.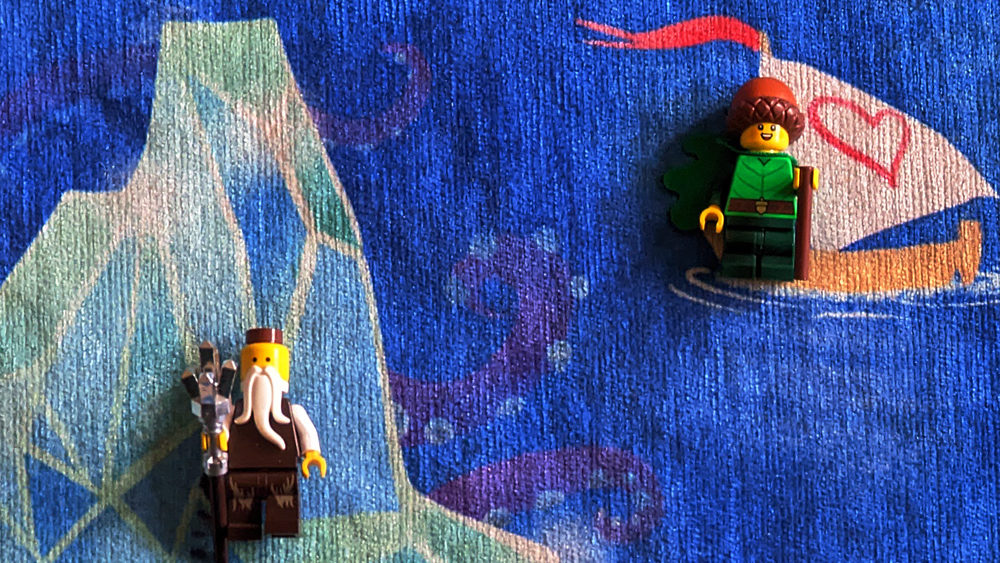 The big question was: how to bring the artwork to life so it's both safe and fun for even the youngest imaginations to explore?
For five years now, I have been offering these playmats as soft fabric maps manufactured by a Canadian company called Art of Where.
They have been printing them in two sizes: 39 x 54″ large, or 18 x 21″ small, using eco-friendly dye sublimation techniques on heavy duty, ultra durable polyester upholstery velvet.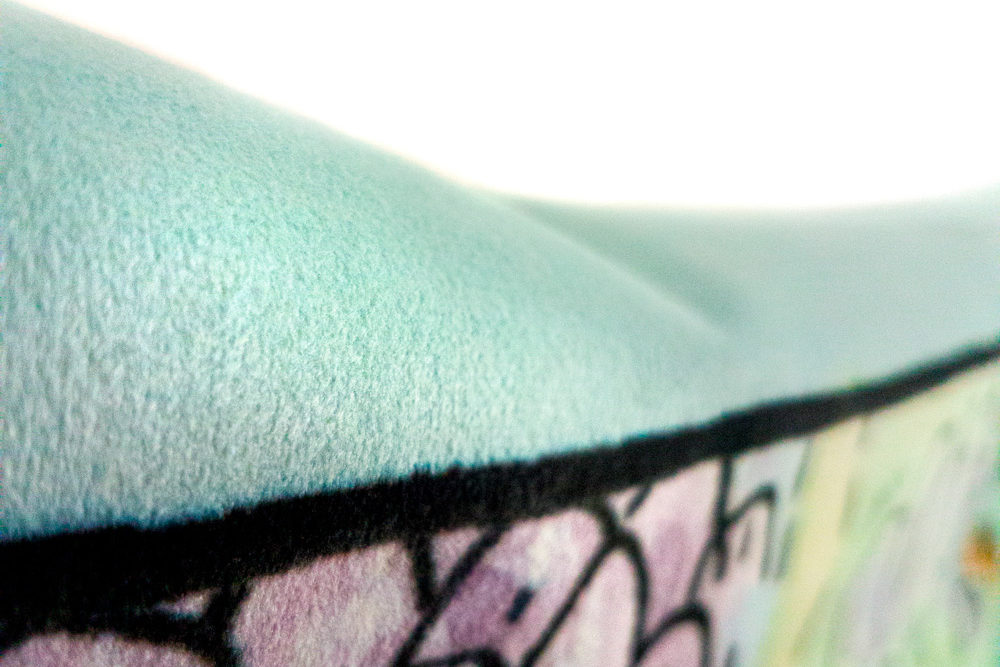 These plush playmats are finished at the edges by laser, so there's low risk of loose threads or fraying fluff. They fold up small, spread out large, and are as happy on the wall or table as they are on the floor. They will hold their vibrant colour through daily use and daily messes, and best of all, they're machine washable!
I have had great feedback on this format from parents and from kids, and they are a staple I'll always keep in my shop!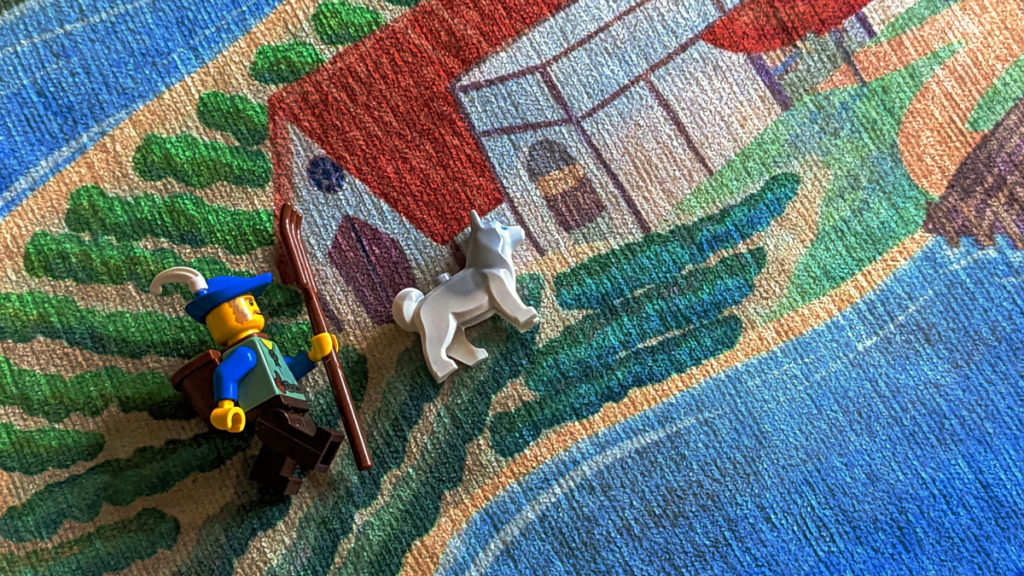 I have, for these past five years, been on a hunt for a way to produce, at my small, independent scale, proper sturdy play rugs. The kind you could push all sorts of toys around on and that would never bunch up or slide underfoot. A rug you could leave out as part of the playroom decor without creating an obstacle for people, pets, or vaccuums. I have finally succeeded on this quest!
I am so excited to now offer proper sturdy, strong, soft and satiny playrugs!
These are low pile polyester rugs; they're printed with a similar dye sublimation technique to the plush playmats, but are much, much sturdier and very hard to fold or curl underfoot.
Best of all, they have a non-slip black and white polyester flower pattern on their underside, making them a great option for playrooms where adventurers are as likely to build a little town as they are to godzilla-style stomp it.
The rugs are manufactured in China and printed in the United States, and are available in three sizes: 20 x 32″, 35 x 63″, and 63 x 84″.
Not every map design works on every material at every size, and we're still proofing and testing each design, but if there's a map here that's not in your chosen format, get in touch and we'll see what we can do!
So if you have a little adventurer in your life who would enjoy meeting a river dragon, exploring magical islands, or spending time amongst the strange and snuggly residents of Cozy Land, take a look below!
These maps might inspire a new story or two in you, as well.